Safe Lock Washer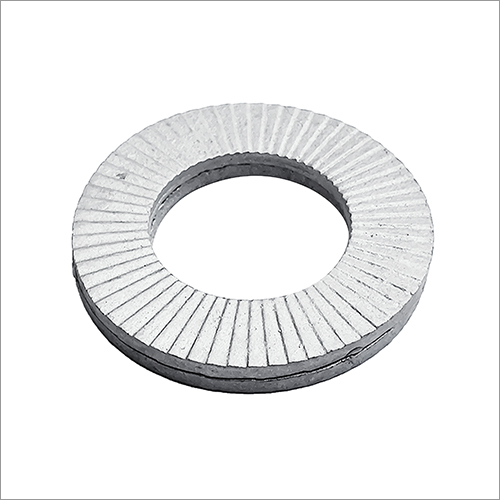 Safe Lock Washer
Price And Quantity
Product Specifications
C-80, 51CRV4, SS316L,SS304L

Round
ASTM , DIN, JIS

Industrial
Product Description
Safe Lock Washers are used in applications where bolts are prone to self-loosening during vibration & fluctuating loads ensuring a long term vibration proof environment for just about any bolt or threaded application.
The wedge-shaped lock washers have cam wedge surfaces on the inside and radial ribs on the outside. The shape of the cam wedge is selected so that the angle of the cam wedge surfaces is always greater than the thread angle.
Advantages and features
Are assembled in pairs, cam face to cam face.
Each washer has radial teeth on outside and mating cams on the inside, creating a wedge under the bolt or nut surface locking under tension preventing unintentional loosening of the assembly.
Eliminate the need to use adhesives
Are reusable over and over again unlike many lock nut systems
Are manufactured to 48 HRC and being harder than the fastener assembly; do not distort through preload. In order to assure the unique mechanical locking function of the Safe Lock Washers, the hardness of the mating surfaces must be lower than the hardness of the Safe Lock Washers.
For a bolt & nut assembly 2 pairs should be used one under the head of the bolt and one under the nut.
Maintains high clamp load and thereby ensures the function of the joint
Quick and easy to install and remove with standard tools
Locking function not affected by lubrication
Reliable locking, even for joints with short clamp length
No retightening needed
Secures fasteners at both high and low preloads
.